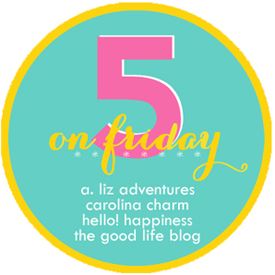 I've linked up for 5 on Friday
Sharing 5 of my favorite things lately!
We have been having a Harry Potter Marathon over here & loving every minute of it!
It "could" help me start contracting and go into labor. But either way, it tastes great and allowed me an excuse to go into the cute tea shop down the block from us! I made a big pitcher of it & added some lemon(boost that metabolism!) & raspberries(yum).
But if it weren't for that man right there,
I would be a crazy person
I would have been admitted into an insane asylum by now. I did not think that I was going to be one of those women who would be "over being pregnant". But I can't help that I want to meet our little girl so badly?!
Pumpkin Spice Donut Holes
You get 5 little bites of Fall, for a buck.
I ordered them from the Littlest Pretty Things etsy shop. I can't wait for our little babe to get here so we can wear them!